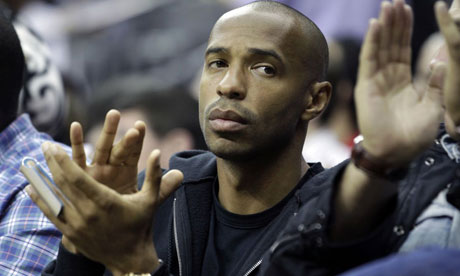 • Eastern rivals Chicago Fire and New York Red Bulls meet
• No Henry or Marquez for New York on their road trip
• Hit F5 to refresh this page, or use our auto refresh tool
• Tweet your thoughts to @KidWeil
• or email graham.parker.freelance@guardian.co.uk
24 mins: New York perking up a little bit by the look of it, but this is a hot day and both teams will have to take turns to ease up a little and Chicago playing within themselves now.
22 mins: ...some chaos in the box as New York try to work a training field corner, which eventually ricochets to Grazzini, who should head clear, but inexplicably tries to nod it back to his own player - but only succeeds in setting up Lindpere for a turn and shot that flies over the bar. Still 1-0 to Chicago.
20 mins: The inexperienced Chicago back line have barely been stretched so far. At the other end Grazzini tries another one of his little sand wedge chips but Barklage is able to head it back to Meara.
Daniel Joseph is back:
"@KidWeil Well, this is going well. How hard is it to keep Dax at defensive mid?"
It does seem a little puzzling. Solli wins a corner...
19 mins: McCarty picks up the ball in an advanced position and spreads it wide to Solli but his cross is overhit. Sad to say for New York, that looked like their most positive move. Very anonymous so far.
17 mins: Nyarko wriggles free on the right and some sharp interplay with Grazzini and Oduro stretches New York again. Holgersson gets the final touch, but Chicago are getting a lot of joy with this movement in the final third.
16 mins: Grazzini drops deep to pick up the ball and fires a shot on target that Meara has to get to his right to save. Pearce is struggling to pick him up - it's a big ask in his first game in that position.
14 mins: Barklage jogs forward with the ball as New York try to press a little. Some tentative interplay ends with Solli overlapping on the outside but over-running the ball and Chicago get a goal kick.
13 mins: New York carved open again as Oduro finds himself with way too much space in the box. He cuts back to the unmarked Pardo who rushes in and blazes over. Their defense needs to settle or this could get ugly, early.
12 mins: Chicago stroking the ball around a little at the back and the tempo dips for a moment. Tom Lane tweets me with some tactical insight:
"@KidWeil Going 1-0 down in the first few minutes is one of the worst things to do, now New York have The Fire and the crowd to contend with"
They do seem very happy right now.
10 mins: ...New York get it clear and break. Richards flies down the right but Cooper is clattered as he's about to feed him. New York do nothing form the free kick and it's still Chicago 1 New York 0.
9 mins: ...Gargan fails to get a header on the corner, but the ball is picked up by Pappa who dummies past Holgersson and picks up a foul to the right of the box...
8 mins: The movement of the Chicago frontmen is causing problems for that reconfigured Red Bulls defense. Holgersson has to stretch to push a ball over the top for Oduro out for a corner...
6 mins: New York by the way, were unbeaten in 50 games after scoring first, and had become used to starting quickly in games, so this is a really bad start for them. Grazzini looking lively early on.
4 mins: We said Grazzini's area might be key and he found the space to reach Nyarko who put his header smartly beyond Meara. Chicago needed that first goal - they've made things hard on themselves too often this season.
GOAL!: Chicago 1-0 New York NYARKO!
2 mins: Section 8 in full voice (and brass by the sounds of it). New York have a free kick in their own half, which Chicago defend comfortably.
Peep: Chicago kick off, trying to extend their run of success over New York at Toyaota Park (meant to mention that in good omens). Straight away, Oduro is released by a sweet little ball by Grazzini, but he's offside.
Coach watch: Klopas looking crisp, Backe looking sports-casual. And we're nearly off...
Teams lining up for anthems: Meanwhile @lukeah is bemused:
"@KidWeil @GdnUSsports after the EURO match everyone left, now it's just me watching the #rbny match, what gives?"
The lightweights, Luke. The lightweights give. Stand tall my friend, for you understand.
(Quirky, emo, acoustic guitar anthem by the way. That's a first. Classy to the last, Arlo lets it slide. Classless to the last, I don't.)
Teams about to come out: Boiling hot day in Chicago by the look of it.
Arlo White has just reminded us that Kenny Cooper has scored in his last four MLS starts.
Team News:
Chicago Fire:
Johnson; Gargan, Anibaba, Berry, Segares; Pause (C), Pardo; Nyarko, Grazzini, Pappa; Oduro
New York Red Bulls:
Meara, Barklage, Holgersson, Conde, Miller, Pearce, Solli, McCarty, Lindpere, Richards, Cooper
So Friedrich doesn't recover from injury in time to make the Chicago side. Pappa comes straight back in from international duty though - and he, Nyarko and Grazzini will try to torment that New York back line. Up against them, former Fire player Wilman Conde is in at the heart of the New York defense, while Pearce will move into the holding midfield role McCarty played with such success in Marquez's earlier absence. That area may be the key to the game as Pearce adjusts. On a side note, shame to see Connor Lade out of the New York side - he can feel a little hard done by after stepping in to replace the injured Miller.
Home Game:
So, I had brief hopes of getting out of the house today...
Yesterday afternoon David Nelson (@ivanomartin) tweeted:
"@KidWeil RBNY viewing (w beer & stadium seating) at Upper 90 Bklyn, if @Busfield - Dome unavailable."
Not being a drinker, but being a big fan of stadium seating, I duly headed down to check out the scene in downtown Brooklyn during yesterday's Euro games - and very charming it was. Upper 90 is a soccer store that also features a mini-indoor kids training pitch, which for the course of the Euros has been transformed into a very impressive viewing arena for those games - and it's also hosting the official Red Bulls viewing party for this afternoon's match, replete with a large contingent of the Viking Army.
I did come very close to doing this minute-by-minute from there, but sadly other Guardian duties got in the way, so I'm watching from my usual seat in Parker Field at ParkerPlex Park (brought to you in association with I Can't Believe it's not Euros).
Needless to say, the cats, who had been looking forward to a quiet afternoon working on their Game of Thrones fan fiction, are dismayed. Not half as dismayed as I am that they're my only company for the afternoon. So do be kind enough to throw me a morsel of human contact by tweeting and emailing me from wherever you are, though try to go easy on how much fun it is...
Marly Rivera @MarlyRiveraESPN gets the idea:
"@KidWeil Currently in traffic headed to Toyota Park :("
That sort of thing... extra kudos for sad-face emoticons. OK, team news in a sec.
The East:
Both sides could do with a win. Chicago need to steady the ship after their recent dip in form and with the Eastern leaders, including New York, beginning to pull away. The teams who started the day around Chicago, New England and Columbus, failed to gain much ground in a 0-0 tie yesterday afternoon, but ominously Houston have leaped over them with their win over Dallas yesterday, as their home game dividend begins to kick in. Chicago will be taking to the road for 5 out of 7 games shortly and could do with arresting the slide now.
New York also have a tough little run starting today, with a midweek game against Vancouver to follow and a home rivalry game against DC United next weekend. DC memorably beat them 4-1 in Washington (in a defeat that inexplicably triggered New York's recent winning streak) and have since gone on to leapfrog New York at the top of the Eastern standings. They also won yesterday, if luckily, against Philadelphia, while Sporting KC also beat Toronto in another Eastern 6 pointer - so New York won't want to lose more ground on the leading 2.
Straight away, MBM regular Daniel Joseph (@BDanielJoseph) tweets an early fear about today's game:
"@KidWeil I believe Dax misses the next game with another yellow. If he is going to get one, I hope it is now and not against Vancouver."
Which I think is a reference to that forthcoming game against DC United.
Preamble: IT'S BACK! After two weeks of full scale retinal assault trying to follow the USMNT's red and white striped wonders zigzag around my screen, while they attempted to scare Antigua, or the rather more sedate activity of watching unattended cameras slowly drift their gaze up to the sky, during grainy half-time feeds from US Open Cup games, MLS IS BACK! And as always, it's very sure of itself.
Best major international tournament in recent memory...Pah! Nothing but a curtain raiser for this afternoon's main course of Chicago Fire vs New York Red Bulls. The Red Bulls in particular have previous form with this sort of tempting fate - their 3-2 victory at Philadelphia last month kicked off moments after yet another minor foreign scuffle had ended in the same score. Naturally Kenny Cooper's "shot heard round the world" took all the headlines (much to Sergio Aguero's dismay) and today he'll be lumbering sweetly on to the Toyota Park field in an attempt to put the Euro 2012 Group of Death into perspective.
Chicago Fire have an upstager of their own in Marco "party poopa" Pappa, who in Guatemala City last week, watched the US make a hash of a dangerous free kick at one end of the pitch, before nonchalantly scoring a sweet equalizer from the corresponding position a minute later.
.
Chicago would be glad of a similar bubble-bursting exercise here today, as New York arrive in town on a 6 game unbeaten streak in league play, while Chicago have lost 3 out of their last 4. They could also do with Oduro discovering some of his earlier season form - in fact no Chicago forward has scored since Oduro's winning goal against Sporting KC over a month ago.
There are some decent omens for Chicago though. After a run of 5 wins, New York labored to a 1-1 home draw against Chivas in their last MLS game. Having come back from injury to look off the pace in that game, Henry is out for both this match and the Vancouver game in midweek - so rather than terrorizing the Fire defense he'll be at home studying DC United videos for his mooted comeback game (and definitely not watching the Euros while listening to light jazz...). Rafa Marquez is out too, though many New York fans may perk up considerably at that news. Finally, Chicago's Arne Friedrich may be back at some stage of the game, to steady a defense that has been let down by too many lapses in concentration recently - a trait I can wholly identify with.
More build up and team news soon, but for now tweet me your thoughts to @KidWeil or email me at graham.parker.freelance@guardian.co.uk and let's astonish the footballing world. Again. Read More
هل تريد وضع المحتوى السابق فى موقعك او مدونتك مجانا؟؟
انسخ الكود التالى و ضعه فى موقعك او مدونتك.